What is "iuwe4good?"
"iuwe4good" is a group of inspired, passionate people
who are following their heart dream
and using their creativity for the good of others,
who connect together to share, encourage, celebrate,
and help each other to continue to
grow and expand their dreams for the good of others.
"iuwe4good" is a creative place where others can find these beautiful people,
be inspired by their journeys, and discover
what they are doing and how to help,
whether it is simply buying their product to support their cause,
sharing their cause with others, or getting involved with their mission.

We want to share our heart dreams and encourage others to follow their heart dreams.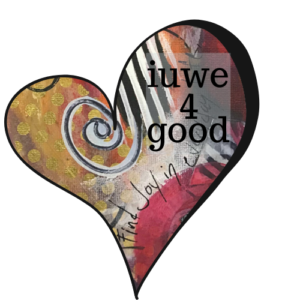 There are things "i create."
There are things "u create."
      There are things that "we create" together
for the good of others.
      We can connect and collaborate.
We would LOVE to hear YOUR STORY!  
 I believe U R Unique & Creative
2 manifest Joy, Love, and Creative Solutions
4 Yourself, Your World, and Beyond! 
Share YOUR story with me HERE
about how CREATIVITY has helped you, healed you,
brought you Joy, or CREATIVE solutions to problems, 

or how YOU are using your CREATIVITY
 in the world to help others!!
You are also invited to join our community of world changers HERE!
i u w e
i create
u create
we create
4 good!