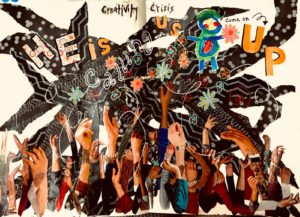 This community of creatives is in the developmental process! 
I am so excited about getting creatives together from all over the world
who are using their creativity to help others! 

This site will be a place where you can see what others are doing around the world,
hear their stories and connect with their websites.

In the meantime, you can share your story with me and join our email list. 
I will let you know what is happening with iuwe4good and share inspiration and stories
to encourage you to creatively impact your world  for good!
PS. The picture above is a collage I made when I took a workshop from Lyn Lasneski who was teaching on creative genius and the creativity crisis. We need to take time to develop our right brain/visual thinking to creatively solve the problems in our world today.  God, the Creator is calling us into our creativity! I used a painting by one of my granddaughters telling us to "Come on up!" We need to learn to create, play, and imagine again as we once did as children.